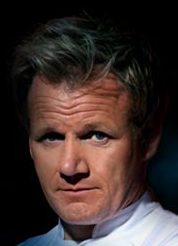 Kitchen Nightmare's visited "Jack's", a restaurant in St. Clair Shores, Michigan. Bill, Scott, and Tammer, all body builders, are partners in the restaurant. AJ, the general manger, is Tammer's father isn't running the restaurant the way the other partners want. (They say he's drinking all the time and not being professional). Scott was asked to be a silent partner because the other partners said he was scaring away customers.
In the kitchen, Aaron replaced AJ (who was previously in the kitchen before moving to the front of house). Aaron doesn't have the authority to change the menu. The place is losing money, and they need help.
Gordon arrived via snowmobile, where he met Scott, AJ and Bill. Gordon sat which each of them to find out what they think is wrong with the restaurant. Gordon finds out 1) Scott is a silent partner, which Scott thinks is because he's "too intense". 2) Scott says AJ makes $100,000 a year, and drinks a lot, plus all three don't agree with what's happening with Jack's.
Gordon looks at the menu, and notices that the Krab Omelet is spelled with "K". Aaron says that it is so that people don't mistake it for real crab. The omelet arrives, and Gordon spits it out. He questions AJ about it, who says it's not his choice that they're using fake crab.
The fish and chips don't go over well either; the cod is rubbery and frozen. Next up is the Honey Pecan Salmon, which is too sweet. Gordon declares it to be one of the worse salmon dishes he's ever eaten.
When Gordon tries to find out who's controlling the food, AJ points at Aaron, but Aaron says he has no control. Gordon asks again, and AJ points at the owners. Gordon tells AJ it has to be his responsibility, but AJ disagrees.
That night, Gordon observes the dinner service. Tammer arrives, and Gordon talks to him. Tammer says that food is inconsistent. Tammer feels like a man in the middle between his father and his friends.
The food starts going out of the kitchen, and then comes back because it's either undercooked, or not to the customer's taste. The food such a problem, that they're comp-ing meals left and right.
Afterwards, Gordon asks them all "Who's got the final say at Jack's?" Bill says that since AJ has been in the business 40 years, and they've been relying on him. Scott confronts AJ about taking a check every week, even though they're losing money. AJ gets very upset, saying that he's booked many groups of people for thousands of dollars.
On Day 2, Gordon goes in early to look at the kitchen and finds, pinked dyed tuna, salmon in what he thinks is Italian dressing, and risotto that is so thick that he can hold it upside down in the pan without it falling out.
When everyone arrives, he takes them through the kitchen, pointing out moldy food, beef bits in blood, discolored chicken. Gordon confronts AJ about it, and AJ blames the owners.
The staff and owners start cleaning everything, and Gordon goes out to meet with local fishermen. He even catches a perch through a hole in the ice.
Back in the kitchen, Bill realizes that the stories customers have told about getting sick were probably all true, and he's very upset.
Gordon grabs the fish from the fishermen, and invites them later to the restaurant to have fish chowder. Gordon shows how to make chowder and a poached salmon dish. Gordon also decides to let Scott be a waiter for the night.
The orders start coming in, but the food isn't going out. The rest of the cooks aren't paying attention to Aaron. The other cooks just aren't paying attention to what Aaron is telling them to do.
An hour into service, no food has gone out. Gordon finally steps in and tells the other cooks to start paying attention. The food finally starting coming out of the kitchen. During this time, Scott is getting more used to being a waiter. The new dishes go over very well, the old dishes aren't and the customers aren't happy.
Afterwards, Gordon tells Aaron he needs to get some authority in the kitchen. He also tells AJ that he should have his salary cut in half, because other parts of the restaurant could use that money to fix things.
Overnight, Gordon's team made a lot of changes to the inside of the restaurant (including a big fish tank, and small fish tanks all along the walls). They put new menus on the tables and including a small bit of rope with instructions on how to tie knots with that rope. The new menu includes fish and chips and home made tartar sauce.
The relaunch night has large crowds in spite of the very cold weather. The food goes out, and the customers enjoy the food. The restaurant fills up quickly, and the kitchen backs up quickly. The fried food isn't coming out fast enough. AJ came back to help, but Gordon says it made things worse. Scott finally goes back when he hears the cooks swearing at Aaron. Scott tells everyone that they should listen to Aaron's order. He yelled a bit, and that really ended up helping Aaron a lot.
Now that the food is going out again, people says they're liking it. The last order of onion rings isn't up to standard, and Aaron gets it corrected.
The partners are impressed with Scott with what he did during the night, and Scott feels pretty good about it.
Afterwards, Gordon complements the owners on how they worked together that night. After complementing each other, Scott speaks up and says that there's still a problem – AJ. Gordon says that AJ needs to cut back on the hours – and his pay. AJ agrees, but thinks that cutting down the hours will be recognized eventually by the partners.
After Gordon leaves, Aaron was given complete control of the kitchen. He fired two cooks and hired two sous chefs. The partners fired AJ, which was obviously hard for Tammer.
Good show, I'd be interested in hearing how things are going at Jack's now.
(I have to say, I have my doubts about how well the fish on the walls will survive… anyone know?)