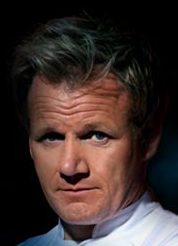 The next season of Kitchen Nightmares starts in the Fall, but we've got a tip about one of the places that will be featured.
Gordon will be visiting j. willy's bar & grille in South Bend, Indiana. A local paper covered the news.
What did Gordon think once he got there?
"This is a dynamic team," Ramsay said, pointing to the j. willy's crew. "We have the most amazing decor, the most amazing ribs, and the most amazing barbecue sauce."
(Thanks to John)