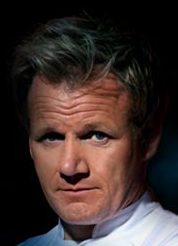 TV Squad is reporting the first episode of Kitchen Nightmares won't be of a new restaurant, it'll be going back to the places Gordon Ramsay tried to save last year.
This is similar to what they have done on "Ramsay's Kitchen Nightmares", the British version of the show. The main difference is in the American version, all the restaurants will be show, while in the British version they do a long recap of a single restaurant, and spend the last few minutes talking about what happened since the original filming. They rename these shows "Ramsay's Kitchen Nightmare's Revisited".
Should be interesting to see how well they fared – or didn't.
Season 2 starts Sept 4th, 2008.
Via TVSquad